Wellness Care
We provide wide array of Preventative Health care including routine vaccinations, Coggin's tests for Equine Infectious Anemia (EIA),  Health certificates for travel, and Insurance examinations.
Acupuncture
Acupuncture stimulates a specific point on the body, usually with a needle, resulting in a therapeutic effect.  It is commonly used for Performance Enhancement or in chronic medical conditions such as Anhidrosis (non-sweating).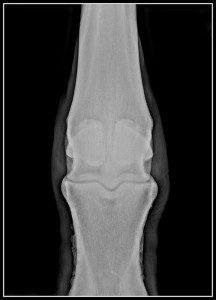 Digital Radiography
Advances in x-ray technology now allow your veterinarian to view images just seconds after exposure.  The digital images can easily be enhanced by magnification or by adjusting brightness and contrast to show fine detail.  Radiographs may be emailed or sent in DICOM format to referring veterinarians.  Viewing the radiographs stall side allow for an on-the spot diagnosis.
Digital Ultrasonography

Ultrasound provides a real time view of the soft tissue structures of the body.  It is commonly used to diagnose distal limb injuries such as a "bowed tendon" or "pulled suspensory ligament".   Detailed measurements about the tissue size,
shape and inflammation of surrounding tissues are documented and stored electronically.  During the rehabilitation period, this allows veterinarians to assess the rate of healing by comparing current scans to the initial images.  We can then design a proper exercise regimen for each individual injury.
Extracorporeal Shockwave Therapy
Extracorporeal Shockwave Therapy (ESWT) is a non-invasive regenerative technology that is used in human and veterinary medicine. It helps the body in relieving pain, speeding healing and improving the quality of healing.  It is indicated for a variety of conditions including tendon and ligament injuries, wound healing, bone healing, and degenerative joint disease/osteoarthritis.  The high energy, focused pressure wave from ESWT causes a biological response in treated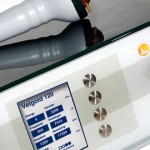 tissue, which will stimulate and accelerate the healing process.  We are excited to offer VetGold Focused Shock Wave Therapy.  Cypress Equine Services now features the Power Probe, and is one of the few practices in the country to offer this new technology.  The Power Probe therapy head maintains the high energy density  where it is needed to achieve therapeutic success for sore necks, backs, feet, and very large horses.   Many insurance companies will cover treatment with VetGold high energy focused shock wave therapy.
Dentistry
Regular dental floating is important to maximize comfort and performance for your horse.  Sharp enamel points on the molars can cause ulceration of the tongue and cheeks and lead to dropping of feed or bitting issues.  Routine dentistry is performed with  Swiss Float motorized equipment while your horse is lightly sedated.  The use of a diamond grinding disc allows for a quicker procedure for your animal.  Annual examinations are recommended for most horses.
Reproductive Services
We provide breeding assistance including ultrasound evaluation of your mare's uterus and ovaries, artificial insemination and pregnancy diagnosis.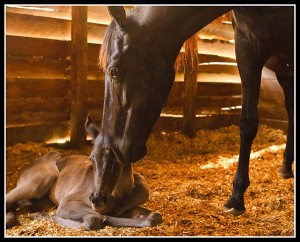 Microchip Identification
A microchip provides a permanent, positive identification for your horse.  The microchip ID is unique and unalterable allowing for identification in case of loss/theft, disaster recovery or when buying or selling a horse.
Emergency Services
Emergency coverage is available for regular clients, 24 hours a day, seven days a week provided by the doctor that knows your horse best.